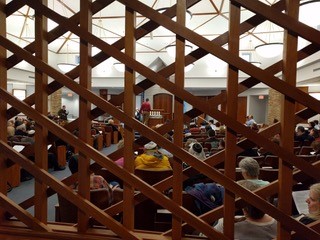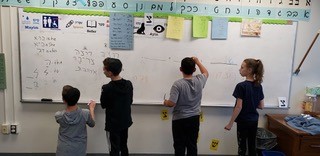 Rabbinic Search
Welcome to the Senior Rabbinic Search page. This is where you can learn more about the process that our committee is taking to find our next senior rabbi. This will be the person who will lead the Temple Israel community into the future. We want our next rabbi to have the talents and skills to support the needs of the congregation and creativity to engage the South Area in Jewish life that is meaningful and relevant. We began by learning the best practices in organizing and managing the search process. We are working closely with senior staff at USCJ - United Synagogue of Conservative Judaism - and utilizing their considerable resources to optimize our efforts and to best collect your opinions.
We are a committee working on behalf of the entire congregation. Your thoughts, opinions, and ideas are all valuable to our work. They will help shape the next chapter in Temple Israel's long history. Please be in touch with either of us with any questions or input as we search for the best person to join our Temple Israel community. The committee email address is tisharonsearch@gmail.com.
Ellen Kischel and Adina Newman
Co-chairs Rabbinic Search Committee
Temple Israel Promotional Video
Click here to view TI Promotional Video
Dear TI Congregants,

The Video Subcommittee of the TI Senior Rabbi Search Committee is delighted to announce the completion of a new promotional video (written, photographed, edited, and produced by our own TI members) that will be available on the Temple's website for prospective candidates to view. This project highlights many wonderful and meaningful activities and events that take place at our shul.

We hope you enjoy watching this and it leaves you feeling nachas (joy) at being part of our vibrant congregation.

Many thanks,
Ellen Kischel, Adina Newman and The Video Subcommittee
Members of the Senior Rabbi Search Committee
Ellen Kischel – Co-chair
Adina Newman – Co-chair
Jane Cohen
Jamie Darsa
Rabbi Ed Gelb
Stuart Gold
Mark Goldstein
Scott Katz
Rafi Kieval
Andy Kriegel
Gabby Liverant
Sheryl Olshin
Mark Popovsky
Ellen Rothberg
Brian Silver
Sue Wolkon
Jess Yudewitz
Ron Czik (ex officio)
Neil Aronson (ex officio)
March Update
Dear Friends,
The Senior Rabbi Search Committee has been working very hard this year to find a Senior Rabbi who will best meet our needs and help us move forward as a congregation. Since we began last August, we conducted a survey that received more than 500 responses; we are also thrilled that so many of you participated in our 18 focus groups. We listened carefully and used your valued opinions to submit our application to the Rabbinical Assembly. We received eight resumes, which was more than most congregations of our size this year. Each resume was reviewed by the screening committee, and we selected candidates whom we considered warm, welcoming, and the right fit for our congregation.
Due to health concerns surrounding Covid, the Rabbinical Assembly issued a ban on all in-person interviews through April 1, which has since been extended to include the remainder of this season. This ban has affected both the rabbis looking for a new position as well as the congregations. It has been challenging to only be able to interview virtually.
As a result, we decided to recommend to the Board of Trustees that we should have an interim rabbi for 2021-2022. We are delighted that Rabbi Leslie Gordon will serve as our interim Senior Rabbi. She brings her warmth and caring for the members of our congregation with her.
This does not mean that the work of the Search Committee is done, or even done for the year. Over the next few months, we will review and refine the process of screening and interviewing candidates. We will update our application for the Rabbinical Assembly. We plan to take additional steps to make our community appear even more desirable to rabbis looking for a new position. We will resubmit our application to the Rabbinical Assembly immediately following the holidays in the Fall with the hope that we can invite rabbinic candidates to Temple Israel to meet our community.
If you ever have any questions or feedback on the Senior Rabbi Search process, please reach out to us at tisharonsearch@gmail.com.
Chag Peasch Kasher V'Sameach.
Ellen Kischel and Adina Newman
Co-Chairs Senior Rabbi Search Committee
February Update
Dear Temple Israel Family,
As you know, the Temple Israel Senior Rabbi Search Committee has been hard at work listening to as many of you as possible to find out what qualities are important to you as we look for a new Senior Rabbi. To date, there have been 16 focus groups with close to 170 members participating. We have submitted our application to the Rabbinical Assembly and have begun to receive resumes from interested candidates. The search committee has been reviewing the resumes and have conducted some preliminary interviews. We will continue to review resumes as we receive them and will continue to do our best to consider everyone's input as we move forward.
If you have not as yet had an opportunity to share your ideas, please contact Ellen Kischel and Adina Newman at tisharonsearch@gmail.com.
Again, thank you to everyone for helping us to shape the next chapter for our synagogue. We plan to have more updates for you in the coming weeks, so please watch your inboxes. You can also find updates on the Rabbinic Search section of the TI website: https://www.tisharon.org/rabbinic-search
January Update
Thank you to the many congregants and friends of Temple Israel who have participated in a focus group. The information shared has been honest, forward thinking, and shows a deep commitment to our community. This information will guide the Senior Rabbi search as we begin the next stages in the process. We hope to launch another wave of focus groups in the coming weeks, so if you have not had the opportunity to participate and would like to, please sign up when that information becomes available.
As of this week, the completed application has been submitted to the Rabbinic Assembly and is now available to potential candidates. Over the next few months, the search committee will be reviewing applications and interviewing candidates. The ability for a candidate to visit our congregation is dependent on the evolving COVID-19 pandemic situation and cannot occur in-person at least until April, with a strong possibility for this date to be extended. In lieu of in-person meetings, we will be utilizing zoom and other forms of communication to meet with candidates and introduce them to the Temple Israel community.
As we move forward in this search, we will continue to update the congregation and let you know of opportunities to get involved in making this important decision.
If you ever have any questions or feedback on the Senior Rabbi search process, please reach out to co-chairs Ellen Kischel and Adina Newman at tisharonsearch@gmail.com.
Survey Information
We have completed a comprehensive survey in which over 500 members participated. Todah rabah! We are pleased to share with you its highlights. At a very high level, it was wonderful to see that many of us are looking for the same traits in a senior rabbi. Many thanks to Dr. Janet Aronson for her hard work and wisdom in preparing and analyzing the survey results.
Staff Structure Report Summary
The combination of hiring a Sr Rabbi with a specific leadership model in mind, clearly communicated roles & responsibilities, a pro-active supervision plan, a commitment to embark on a strategic planning process with his/her involvement, and commitments to lay and professional staff training will hopefully make our Sr Rabbi position attractive to qualified candidates, and perhaps serve as a differentiator. Our focus on staff structure and governance framework will serve both a new Sr Rabbi and our congregation well which is of course our ultimate goal.
We reviewed three approaches to Rabbinic Leadership. The approaches are not exact, but rather points on a continuum. It is only when lay leadership and professional staff have a shared understanding of how they approach their responsibilities, that the entire staff can have the best chance to succeed and maximize its potential.
The three approaches as described in USCJ reference material are:
Chief Executive Officer (CEO) Model : In the CEO model the rabbi is the chief of staff who manages and guides the kehilla like a non-profit organization. In this model the board can focus on vision, strategy, policy and financial resource development, as they delegate program development, management and implementation to the rabbi. The rabbi takes full responsibility to ensure that the staff system is working.
Chief Religious Officer (CRO) Model: The most typical model in medium to large congregations is the Chief Religious Officer model, in which there is a dual reporting process. The rabbi serves as the program management staff leader, and may supervise or guide the work of the cantor, educator, preschool director, or program director. The president and other lay leaders (treasurer, house chair, etc.) supervise the work of the executive director in the administrative arena. Most successful rabbis and executive directors realize that they are partners and that they are in a system where they need mutual respect and collaboration.
Chief Spiritual Leader (CSL) Model: In the Chief Spiritual Leader model the rabbi focuses primarily on teaching, preaching and pastoral care, and chooses not to supervise anyone. CSL rabbis will delegate administrative issues to the lay leadership and the executive director or administrator. In this scenario, volunteers are expected to supervise and assess other staff and provide oversight. Effective synagogue staff teams have a leader who orchestrates success.
We assess our model today as CSO+, primarily because our Sr Rabbi, Rabbi, and Executive Director all report to our Board and our Board President, Executive VP, and Executive Committee are all very active in program management and some administrative aspects of the synagogue. The "+" indicates that our Sr Rabbi, Rabbi, and Executive Director do collaborate on cross functional topics. Our current model places a substantial burden on lay leadership to supervise multiple professionals and there is a dependency on the expertise of the Board, exacerbated by rotating congregational Presidents every two years. When our professionals are not working collaboratively and/or when lay leadership is ineffective, not adequately trained, or unavailable, we run the risk of dysfunction. Our congregants with many diverse interests may hold our Sr Rabbi accountable for things that he/she may not formally be responsible for.
Recommendations
Rabbinic Leadership Model
We recommend that we move forward with and therefore hire a new Sr Rabbi with the CRO+ model as our target. The CRO model will bring all non-administrative staff under the supervision and direction of a new Sr Rabbi and make him/her along with his/her team responsible for all religious, educational, pastoral, and programmatic functions in collaboration with various committees of the Board that also provide oversight. This implies that a new Sr Rabbi be inclined to take on supervisory responsibility and either have experience in doing so or will be ready to be trained to do so. The "+" is intended to ensure that although the Executive Director will formally report directly to the Board, it is understood that the Executive Director must play an important supporting role to the Sr Rabbi and his/her staff.
Most of our congregation desires personal relationships with our clergy. In order for us to succeed, we need to ensure that the Sr Rabbi and his/her professional leadership team develop a clear delineation of responsibilities so that the Sr Rabbi and the remainder of our professional staff work together so that all of our congregants feel appreciated and have a sense that our clergy knows them and their families. This needs to be Mission #1 as we move forward.
Each of our Religious School Director and Hertz Director should be able to operate semi-autonomously but under the general direction of our Sr Rabbi and with support, input, feedback from all of the other branches of our staff. If we are to attract new members, we need to improve the reputation and functioning of our religious school program and expand our teen programs so that we build a deeper relationship with our teens and young adults.
We need an Executive Director in place who ably acts as COO of the shul, organizing the office, our communications with our members and potential members, and working to make sure the staff below him/her is all working together in an organized effort to assist the Sr Rabbi in achieving his/her responsibilities.
Strong Systems
Each staff member needs to know whom he/she reports to, what his/her goals are, and how he/she will be evaluated according to those goals. We recommend a clearly outlined structure that is transparently shared amongst the professionals, the Board, and the congregation. This structure as pertains to the Senior Rabbi, would include having his/her expectations clearly delineated in writing, with regular check ins (perhaps with a Rabbinic Support Committee) to ensure that the goals are being met. The Rabbinic Support Committee or the Rabbi's supervisor, should report to the Board of Directors at least twice a year on the Rabbi's growth and continued goals.
Lay Leadership Training
In order for our next Sr Rabbi to succeed, our lay leadership needs training in governance. (This is not uncommon in volunteer led organizations.) Not unlike the staff, a clearly outlined committee structure, with clear role delineation between staff and professional, and clear norms for governing the synagogue, will create a positive environment in which the new rabbi and all of the staff can thrive. This is especially critical in synagogues because of the leadership changes that occur as part of the by-laws every two years.
Professional Staff Training
Our staff has been operating in silos and without supervision and evaluation on an ongoing basis. In order to move towards a team approach with clear structures, it will be necessary to invest time and effort to training our staff. They will need to learn what their roles are, what their goals are as individuals and as a team, and how to work together to achieve those goals.
Strategic Planning
Temple Israel is in need of a strategic plan to ensure its long term vitality, and perhaps even viability. The strategic planning process is best done with a combination of lay and professional leadership. After a new Sr Rabbi has had at least six months to get grounded in our community, we should initiate a process that will lead to concrete and measurable strategic goals that are collectively owned by the Board, Sr Rabbi, and Executive Director.
Communicating With and Educating the Congregation
For many congregants, the Sr Rabbi is the primary representative of the synagogue. As a result, the ultimate responsibility for most synagogue functions—and the accompanying credit or blame—is usually attributed to the Sr Rabbi, whether warranted or not. In order for our next senior rabbi to succeed, it is necessary to educate the congregation on both the role of the Sr Rabbi and the roles of other clergy, staff, and lay volunteers.
Focus Groups
Your voice counts! As part of Temple Israel's search for a new senior rabbi, the Rabbinic Search Committee is committed to hearing from as many members of our synagogue community as possible. During our first set of focus groups, nearly 75 members joined us to share their thoughts and aspirations for the future of TI.

We are now pleased to offer a second set of focus groups to continue hearing from you. Please consider participating in an interactive focus group meeting to be conducted over Zoom in the coming weeks. In order to have the most productive conversations, each focus group meeting will be limited to 15 participants.

As you will see, the next set of focus groups will be a combination of sessions designed for specific cohorts and sessions for "mixed" cohorts. Above all, it is important that we hear from everyone, so please feel free to participate in whatever session works best for you, even if you are not part of the specific cohort for that session. We will do our utmost to continue offering these opportunities to hear your voices until everyone who wishes is able to participate.

All information gleaned at these meetings will be totally confidential, in that no names or identifying information will be shared. Please review the available slots below and click on the button to sign up. Thank you!

If you have any questions, or if these events do not fit into your schedule, or if you would prefer to speak with us more privately, we invite you to reach out to us personally via our email, tisharonsearch@gmail.com.

Ellen Kischel and Adina Newman, Co-Chairs
Subcommittees
The larger Senior Rabbi Search committee has been divided into smaller subcommittees to maximize our efforts. These smaller groups will change as needed as we go through the search process. We began with 4 subcommittees.
The communications subcommittee is responsible for keeping our Temple Israel family informed through emails and updates on the congregation's website as we move through the process. The members of this subcommittee are Sue Wolkon, Jaime Darsa, and Sheryl Olshin.
The application subcommittee will be working on the application that that our congregation must formally submit to the Rabbinical Assembly to receive resumes from potential candidates. This application will provide important information about our synagogue, the greater Sharon community, our experiences, and aspirations for Temple Israel. The members of this subcommittee are Rabbi Ed Gelb, Dr. Andy Kriegel, Jess Yudewitz, and Brian Silver.
Our staff structure subcommittee has reviewed our synagogue's organizational structure to help develop a structure to ensure a new Rabbi will have a clear understanding of how our synagogue operates and his or her role within this structure. Their recommendations have been brought to the Board of Trustees for their approval. The members of this subcommittee are Mark Goldstein, Jane Cohen, Dr. Rafi Kieval, and Neil Aronson.
Our focus group subcommittee is dedicated to working on meetings with congregants in separate focus groups to elicit feedback from our synagogue community that will inform every aspect of this process. We believe the results of these focus groups will provide more in-depth information and allow for more discussions on what personal traits and skills you consider most important for our new senior rabbi and allow all voices to be hear. The members of this subcommittee are Ellen Rothberg, Dr. Mark Popovsky, and Dr. Gaby Liverant
Thu, December 2 2021 28 Kislev 5782